The great men and women of history - statesmen, laureates, revolutionaries, and heroes – have two great muses. First, the land and its past, and second, children and their future.
These people, heeding the calls of their time and working towards the good they'll never have a taste of, leave us heirlooms of their struggles. Of future gifts grown on soil and built in stone, and of thoughts and wisdoms written with tears and blood.
Written – on books and memoirs, on declarations and such. And some, lovingly, on hopeful letters to be received by children they'll never be acquainted with.
"Run! For the sacred flame
Of the genius awaits to be crowned with laurels,
Spreading fame With trumpet proclaiming
O'er the wide sphere the mortal's name.
Day, oh happy day,
Philippines genteel, for your soil!"
Excerpt from "To the Filipino Youth", by Jose Rizal
"We are tribeless and all tribes are ours.
We are homeless and all homes are ours.
We are nameless and all names are ours.
To the fascists we are the faceless enemy
Who come like thieves in the night, angels of death:
The ever moving, shining, secret eye of the storm."
Excerpt from "An open letter to Filipino Artists", by Emmanuel Lacaba
"Today, the challenge is for the youth of this nation, beset by the worsening problems of poverty, corruption and criminality, to consecrate their lives to a cause bigger than themselves, to 'dream the impossible dream' and 'reach the unreachable star.'"
Excerpt from "A Letter to the Filipino Youth of Today", by Jovito Salonga
From Jose Rizal, Emman Lacaba, Jovito Salonga, and many more who wrote to the future, we share a continuing struggle centuries in the making. We bridge the gap bound by generation and time by words, thoughts, and dreams.
Today, we remember the day that started the decades of oppression and repression.
Today, we reflect on these tempestuous period of darkness we are living in.
Today, we re-imagine a future where truth, justice, freedom, love,  equality, and peace resides.
The road to the future has long been long lit and marked for us. We make our way not only by learning our histories, but more importantly, by communing with it.
Commune. We had received their letters, today we write back.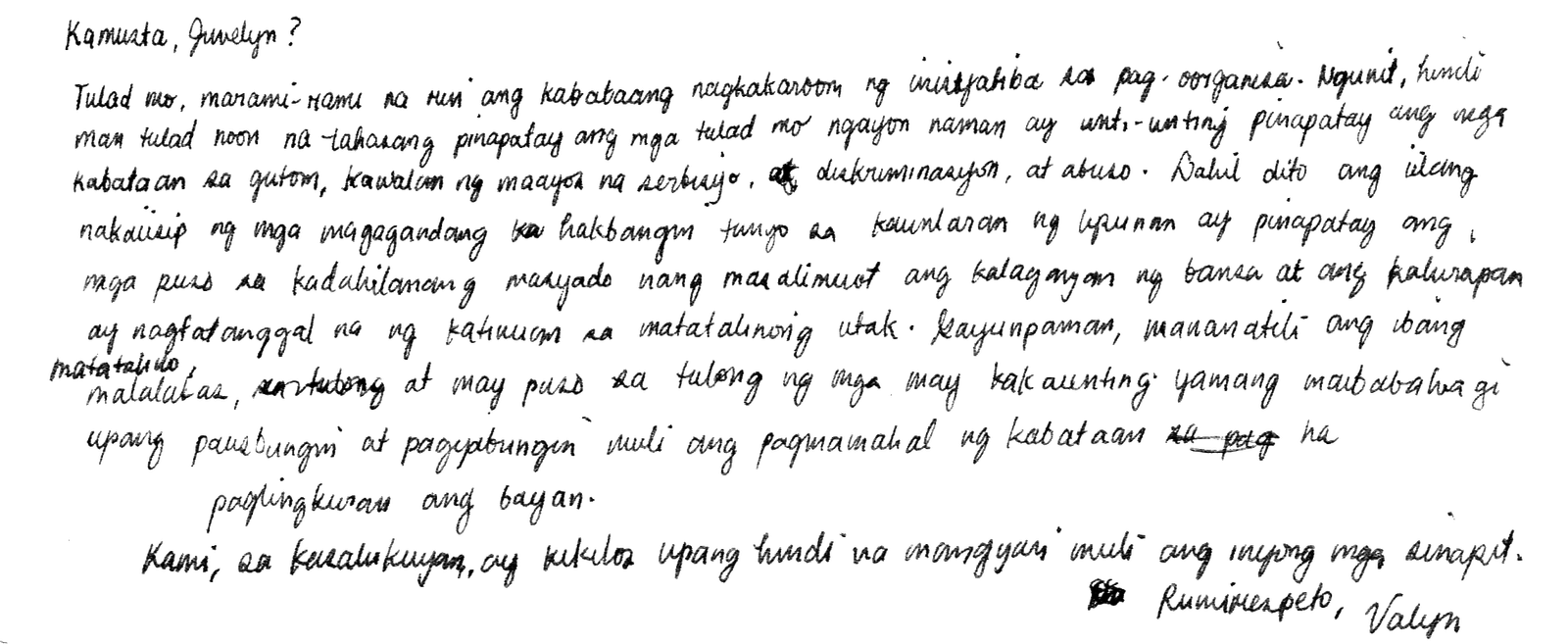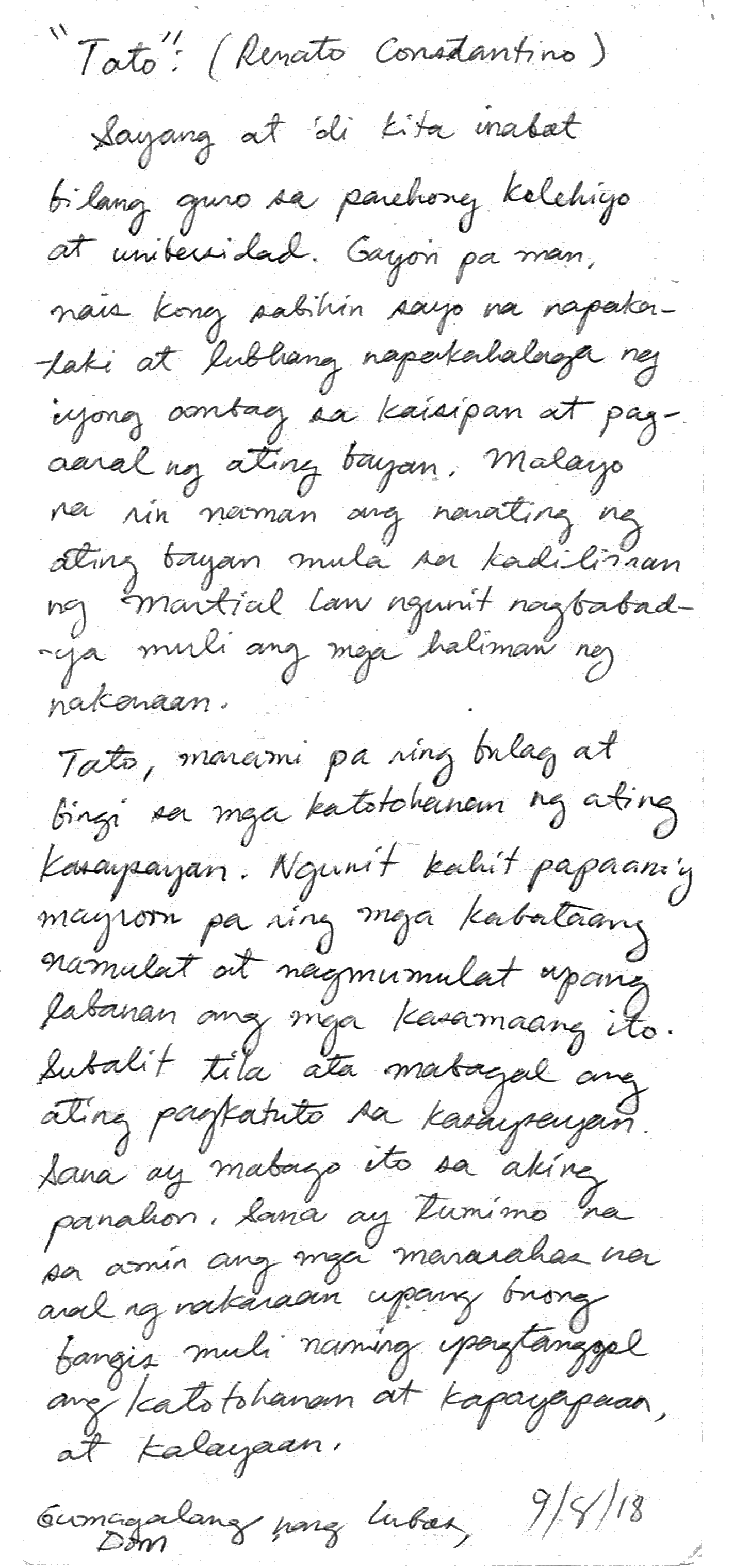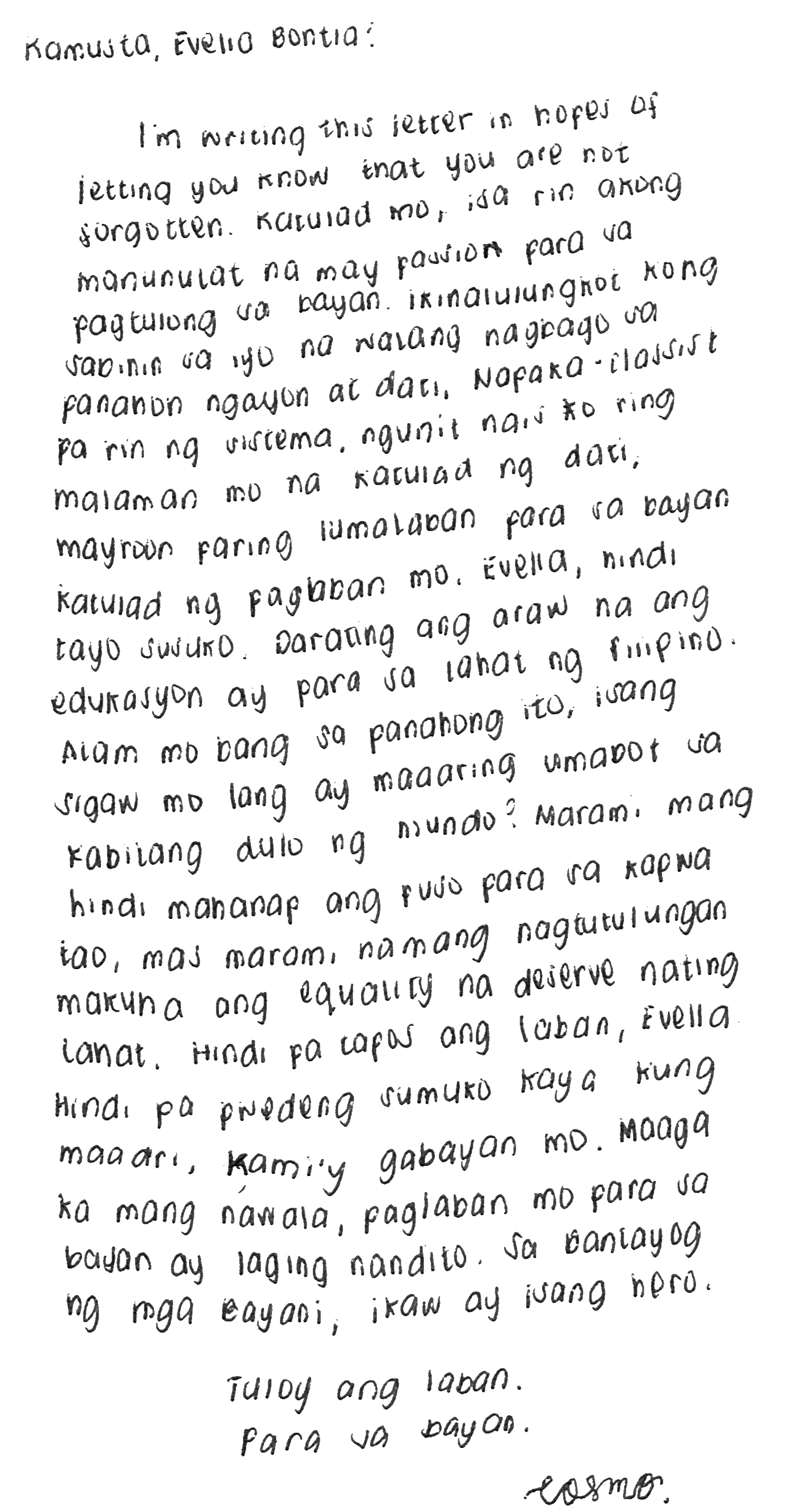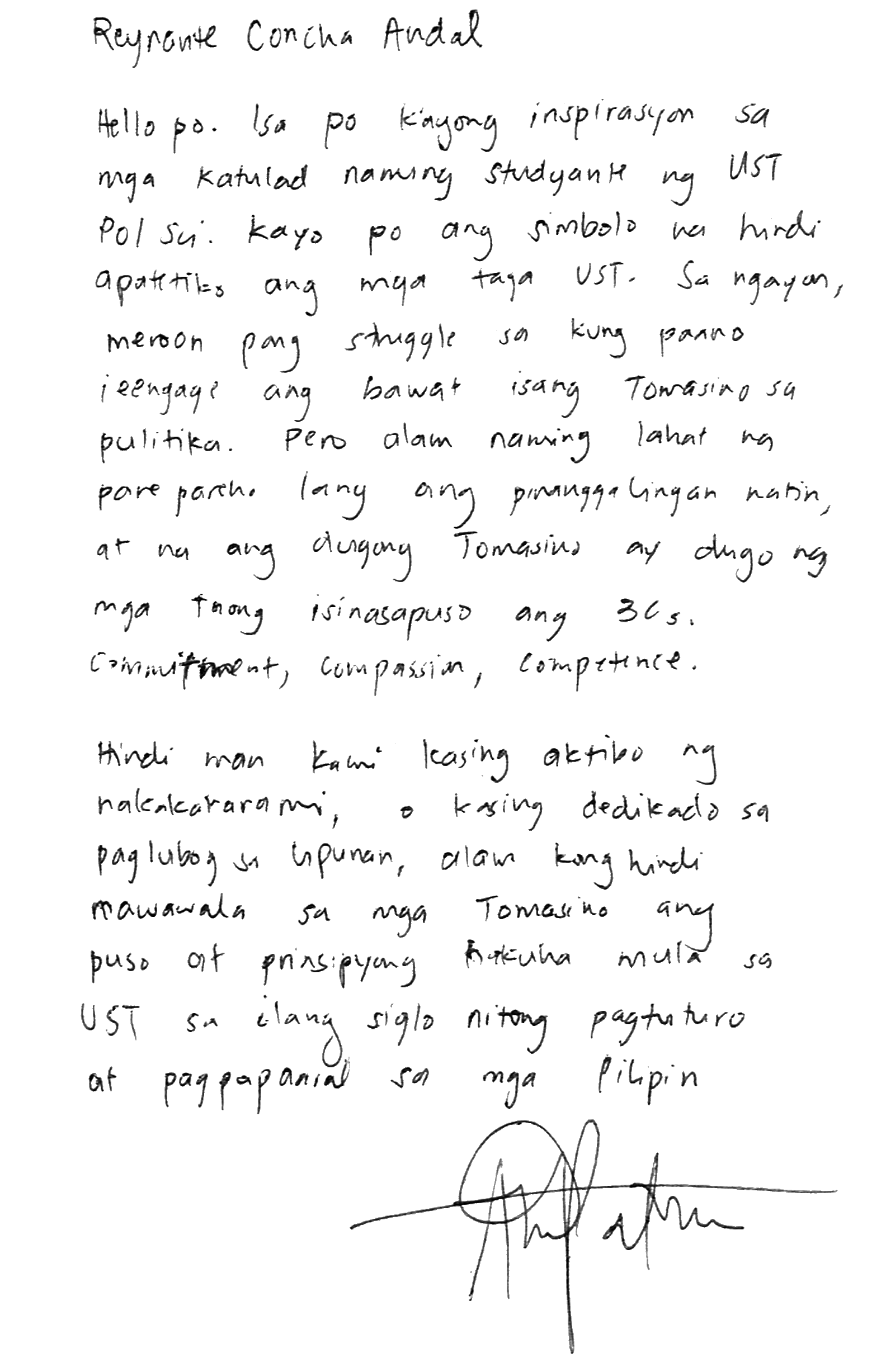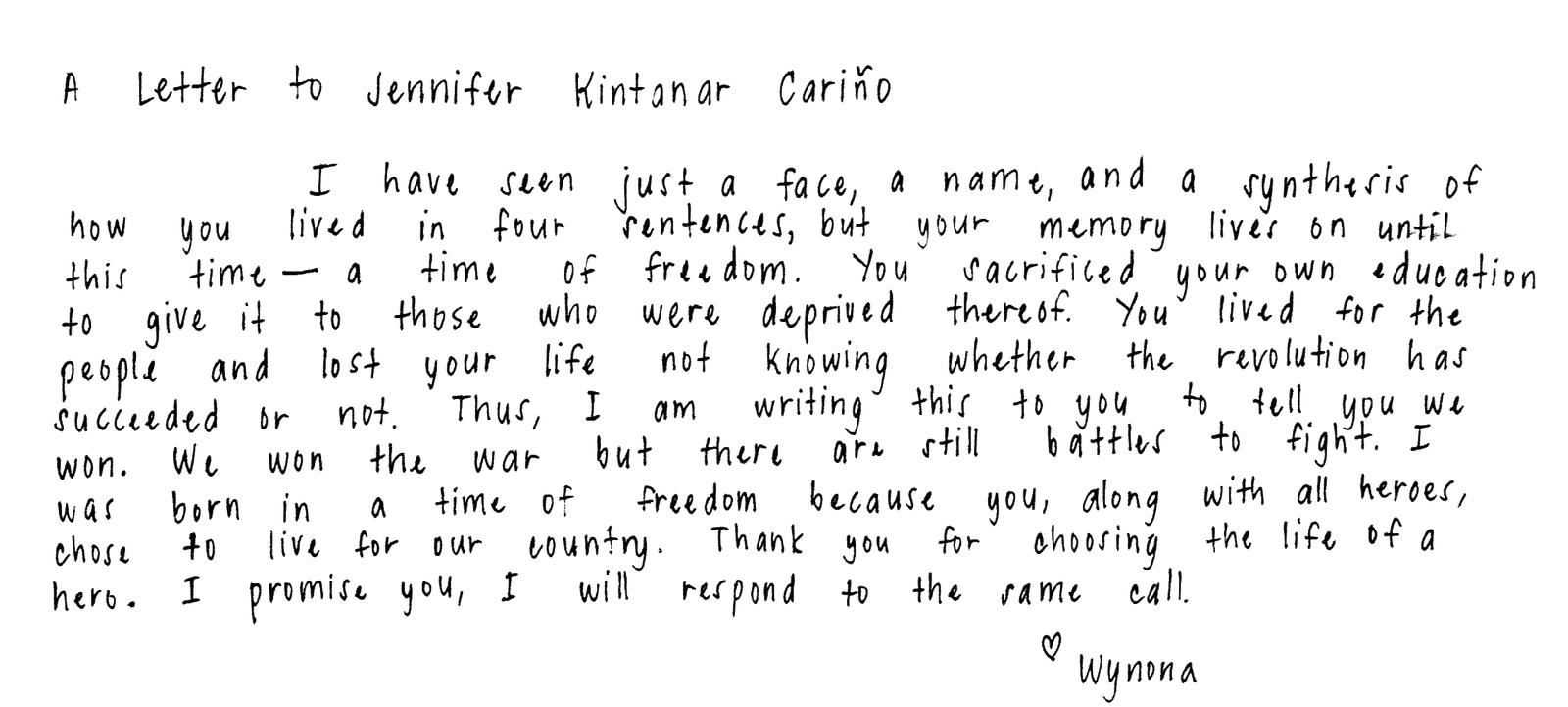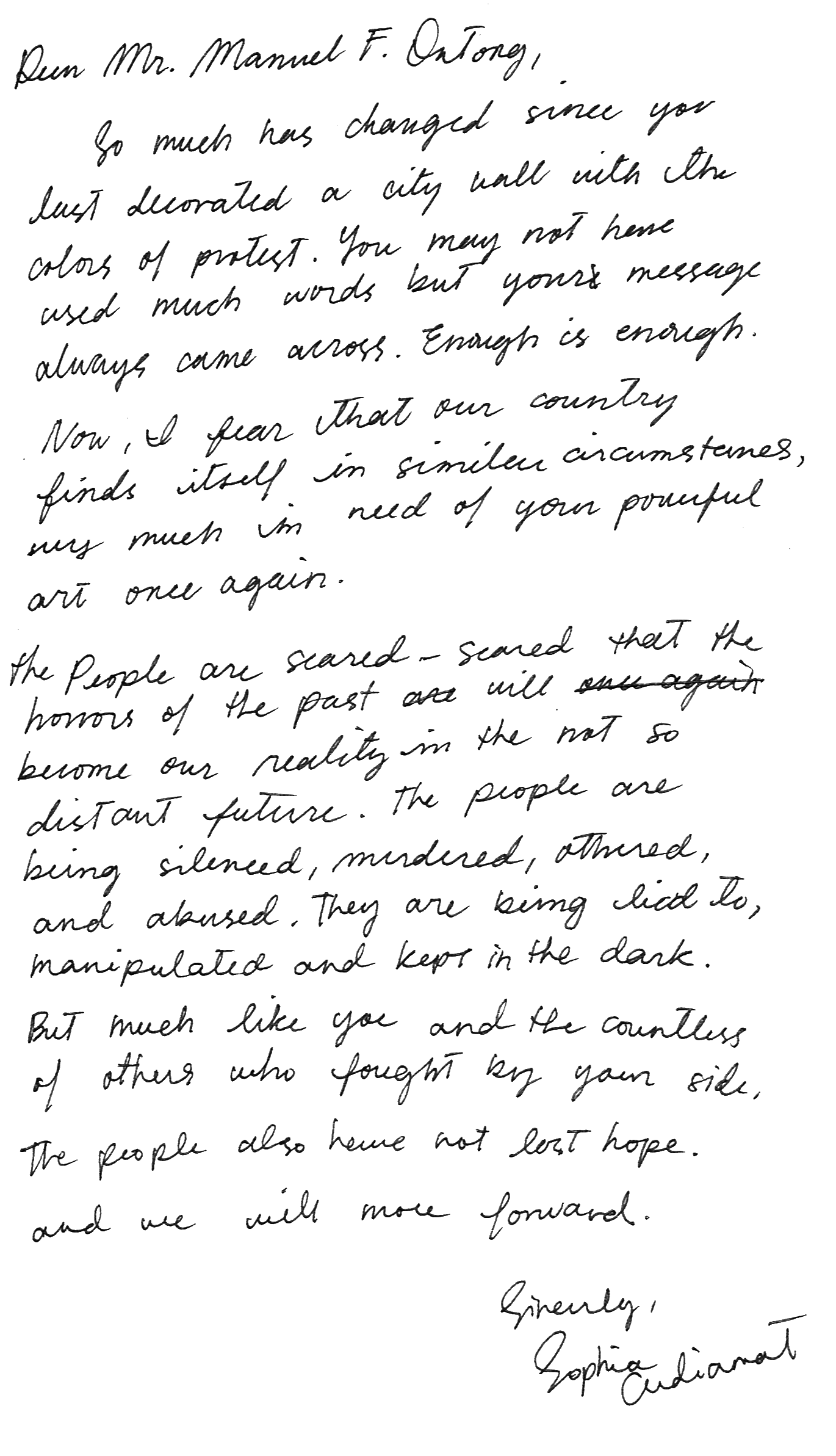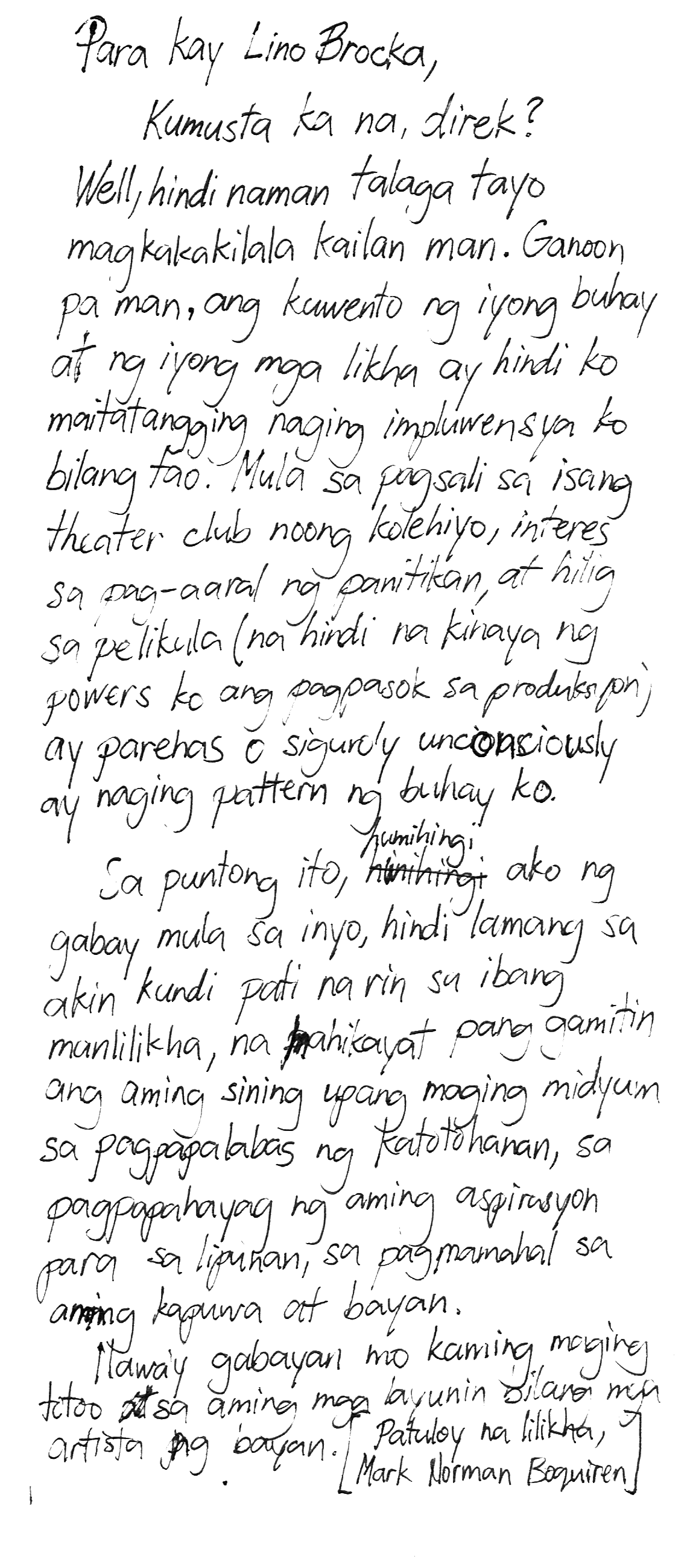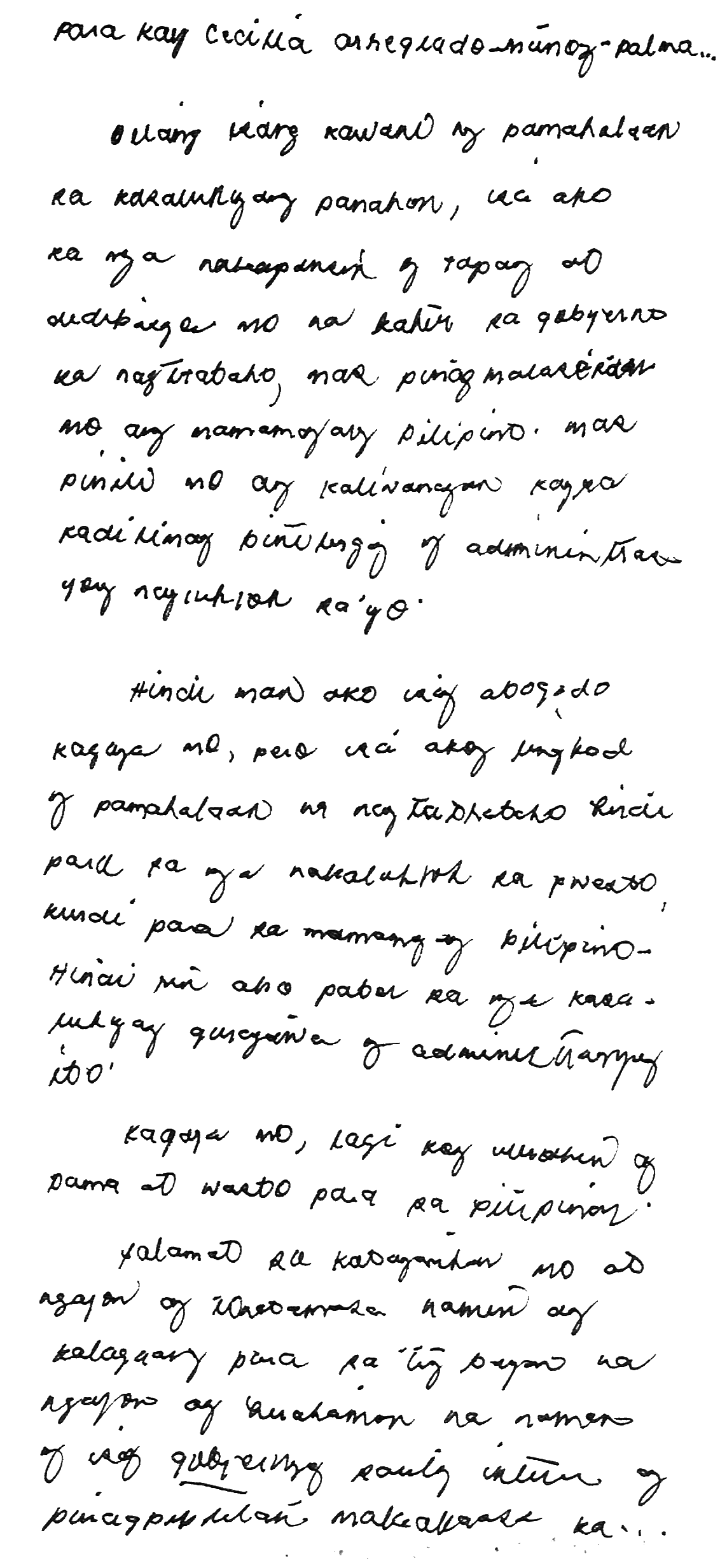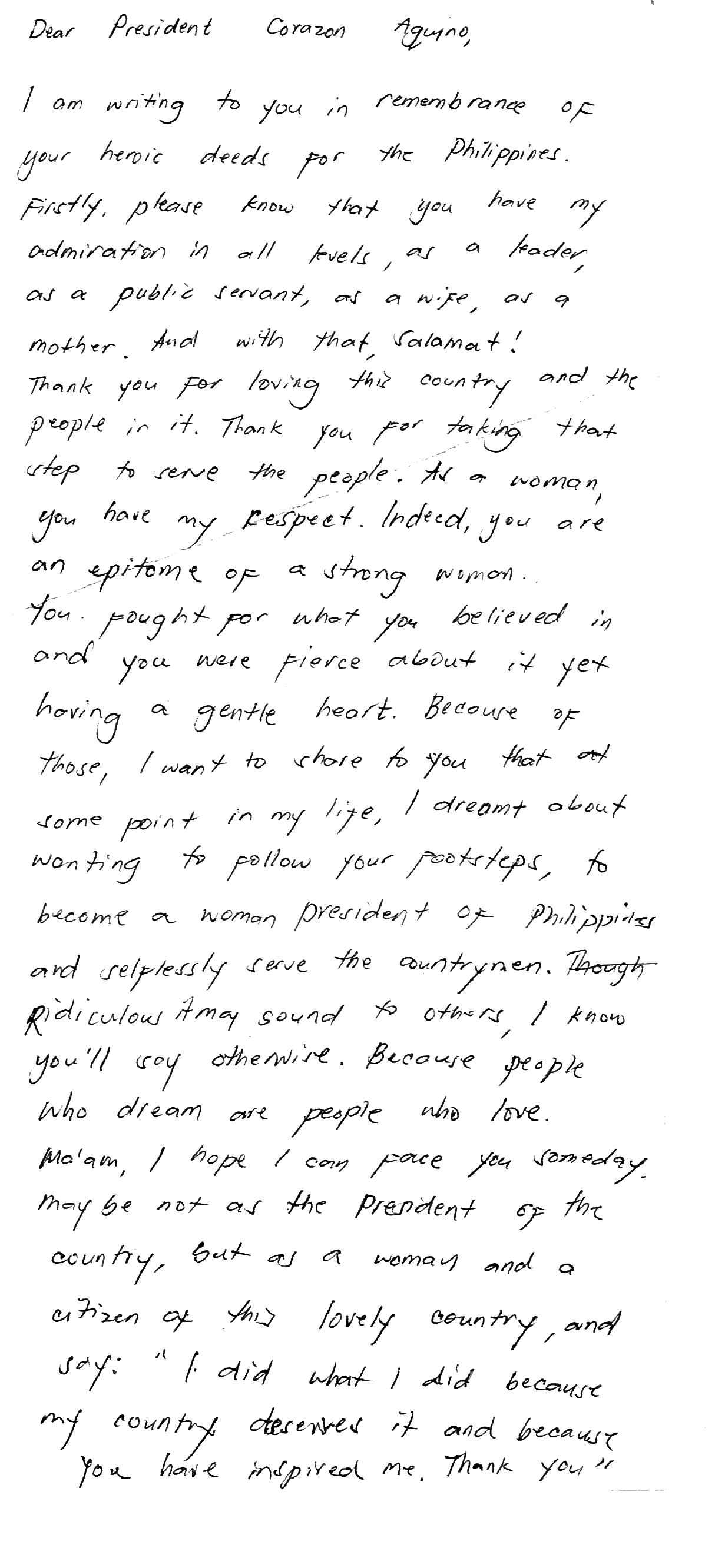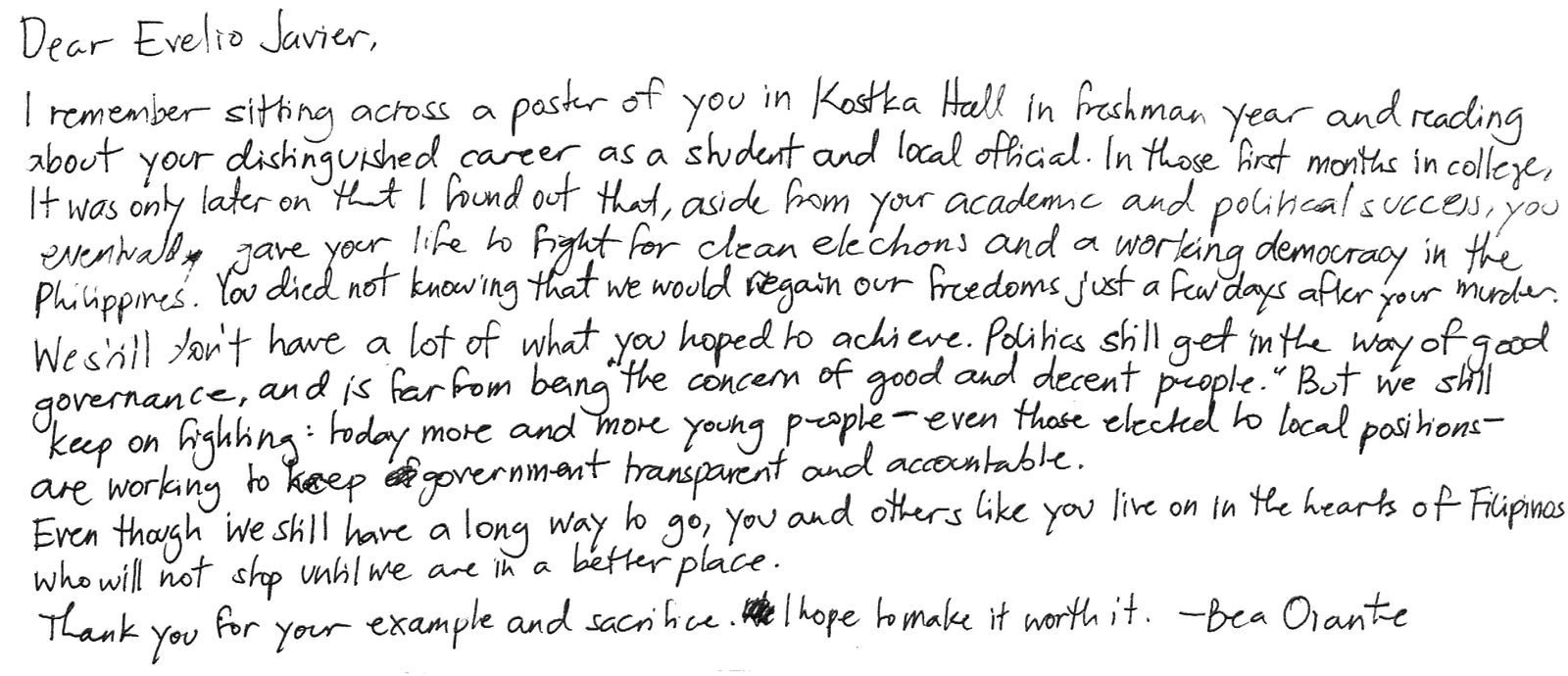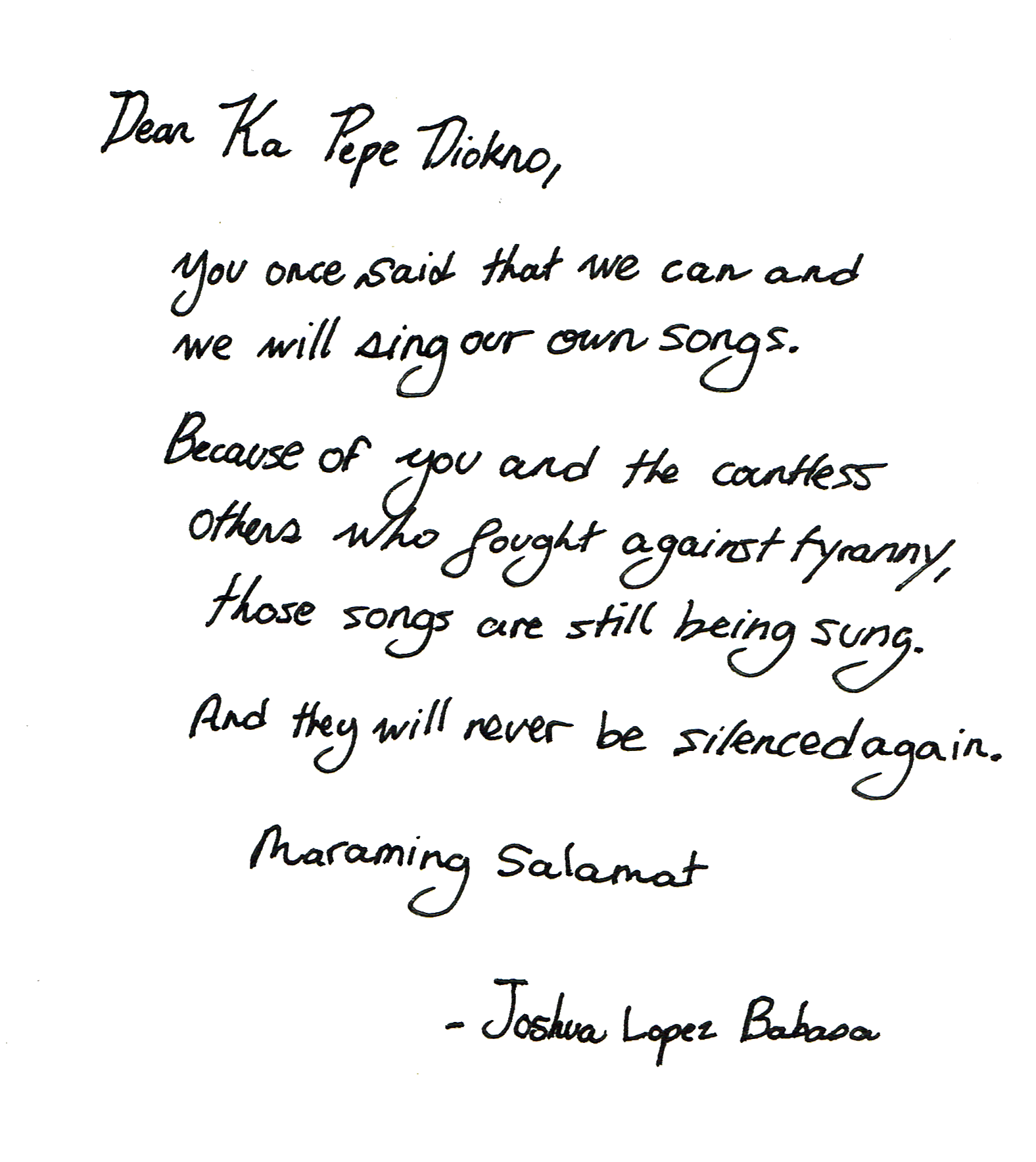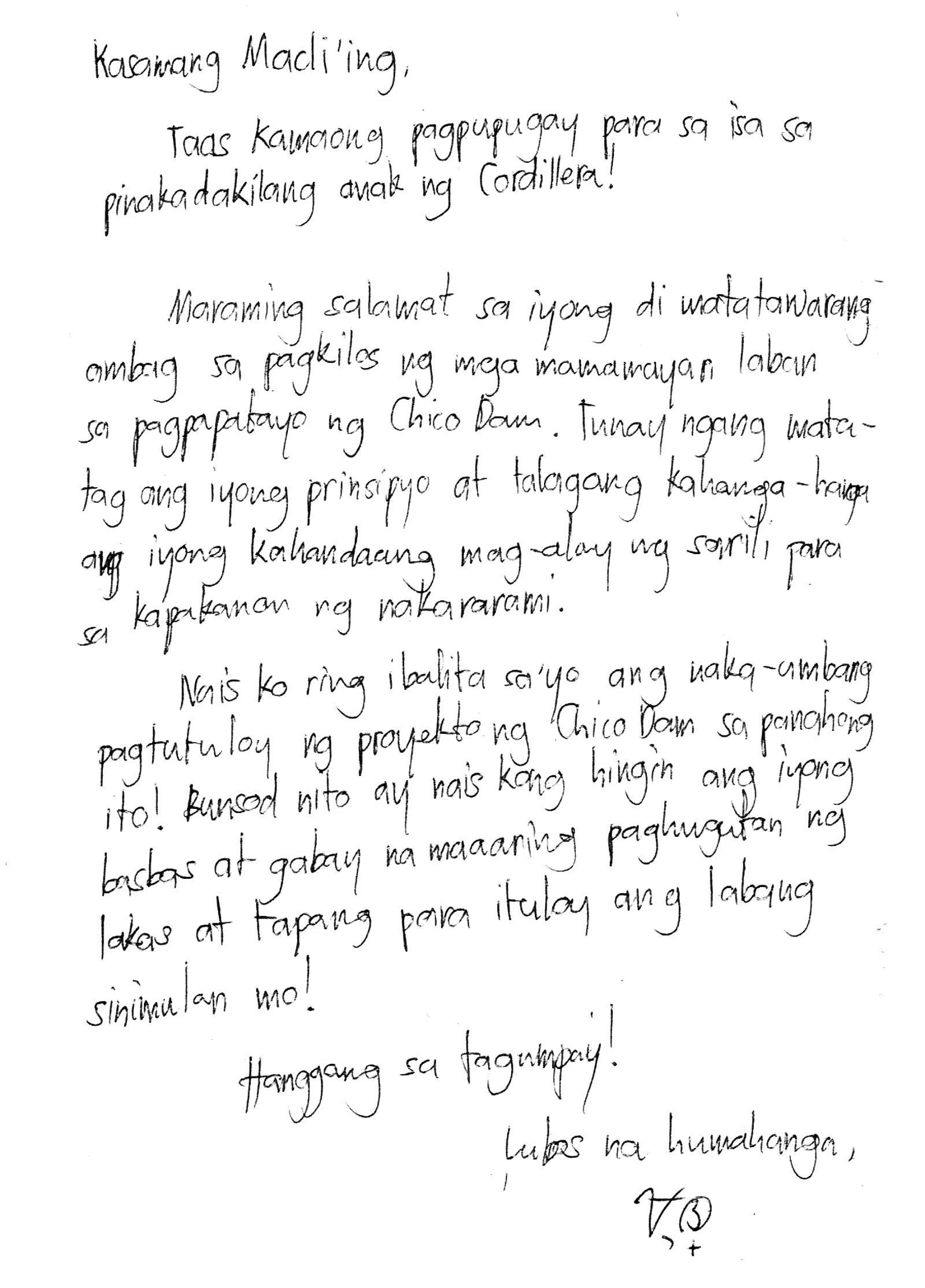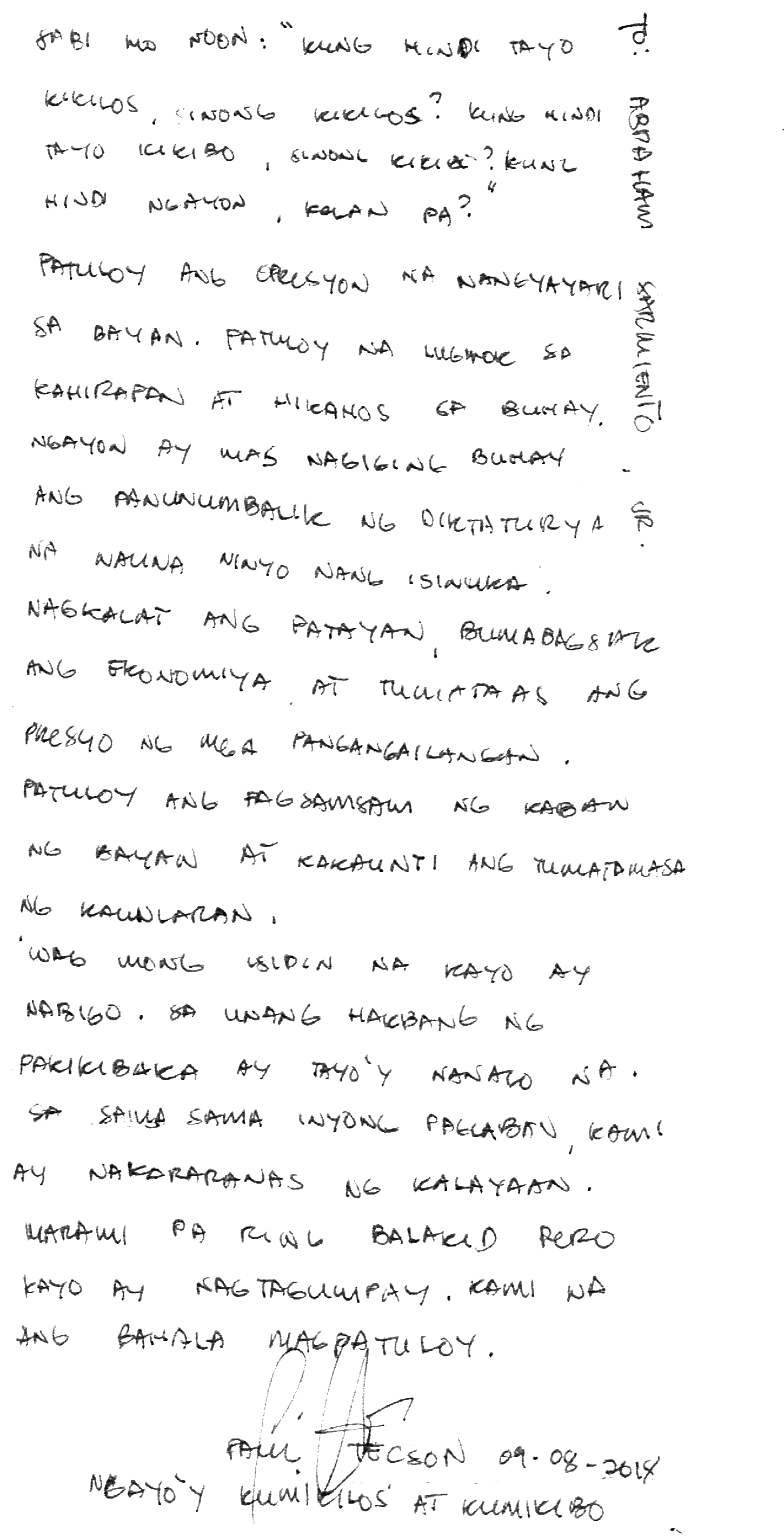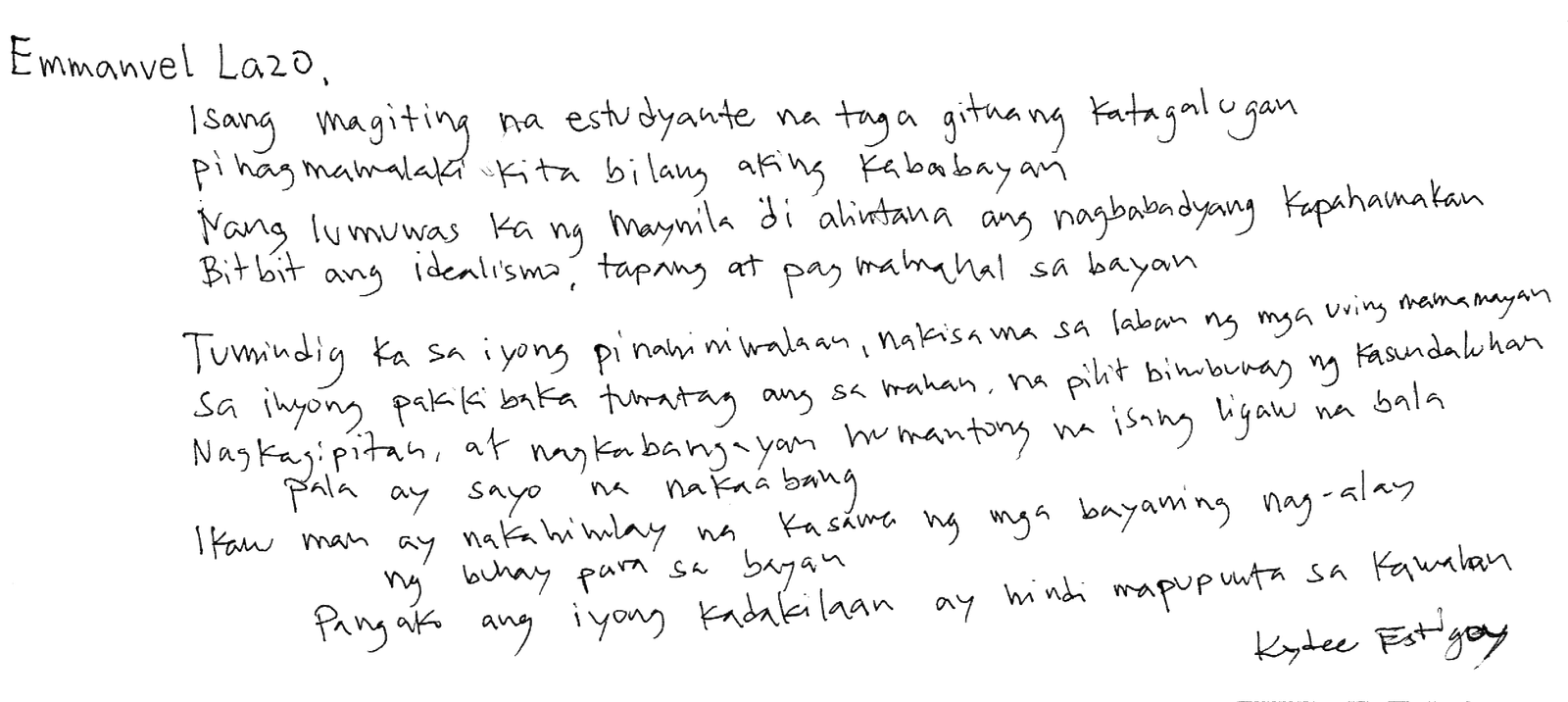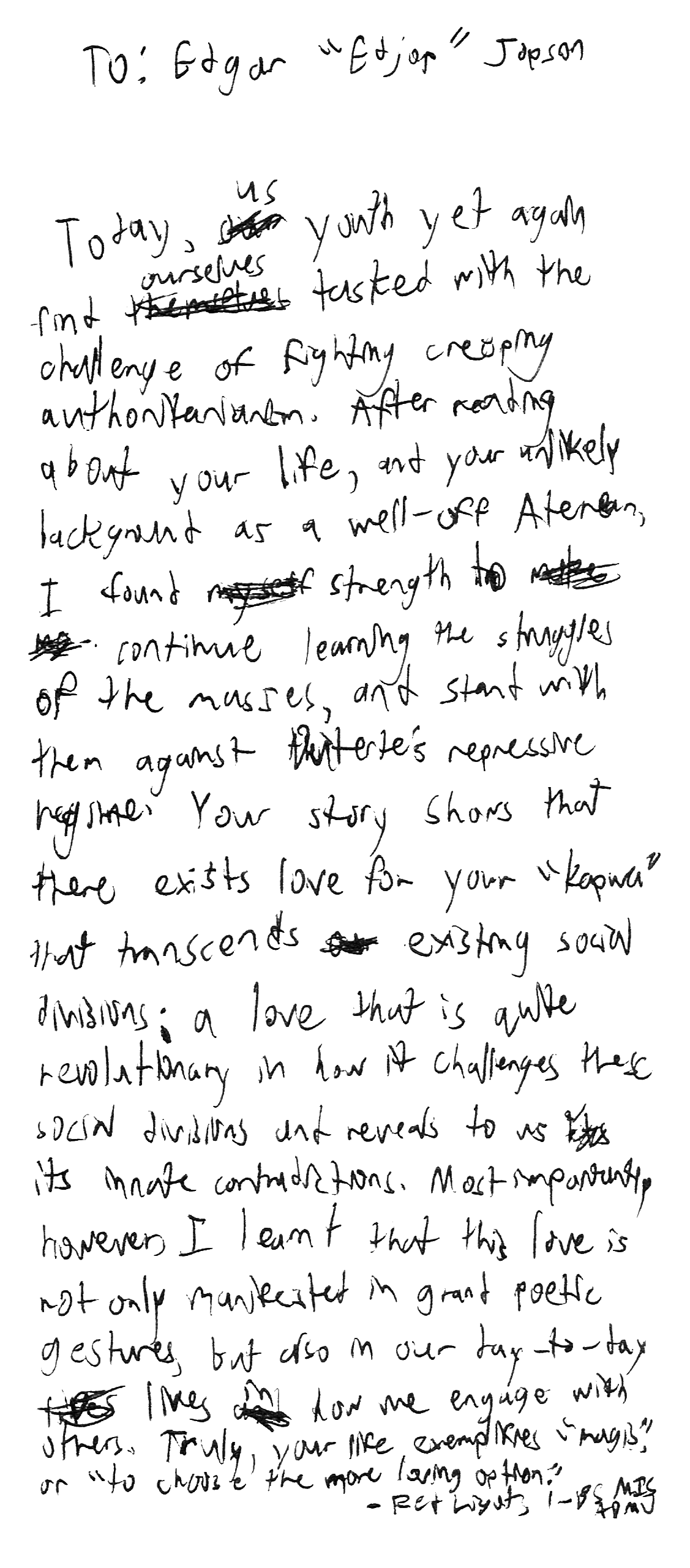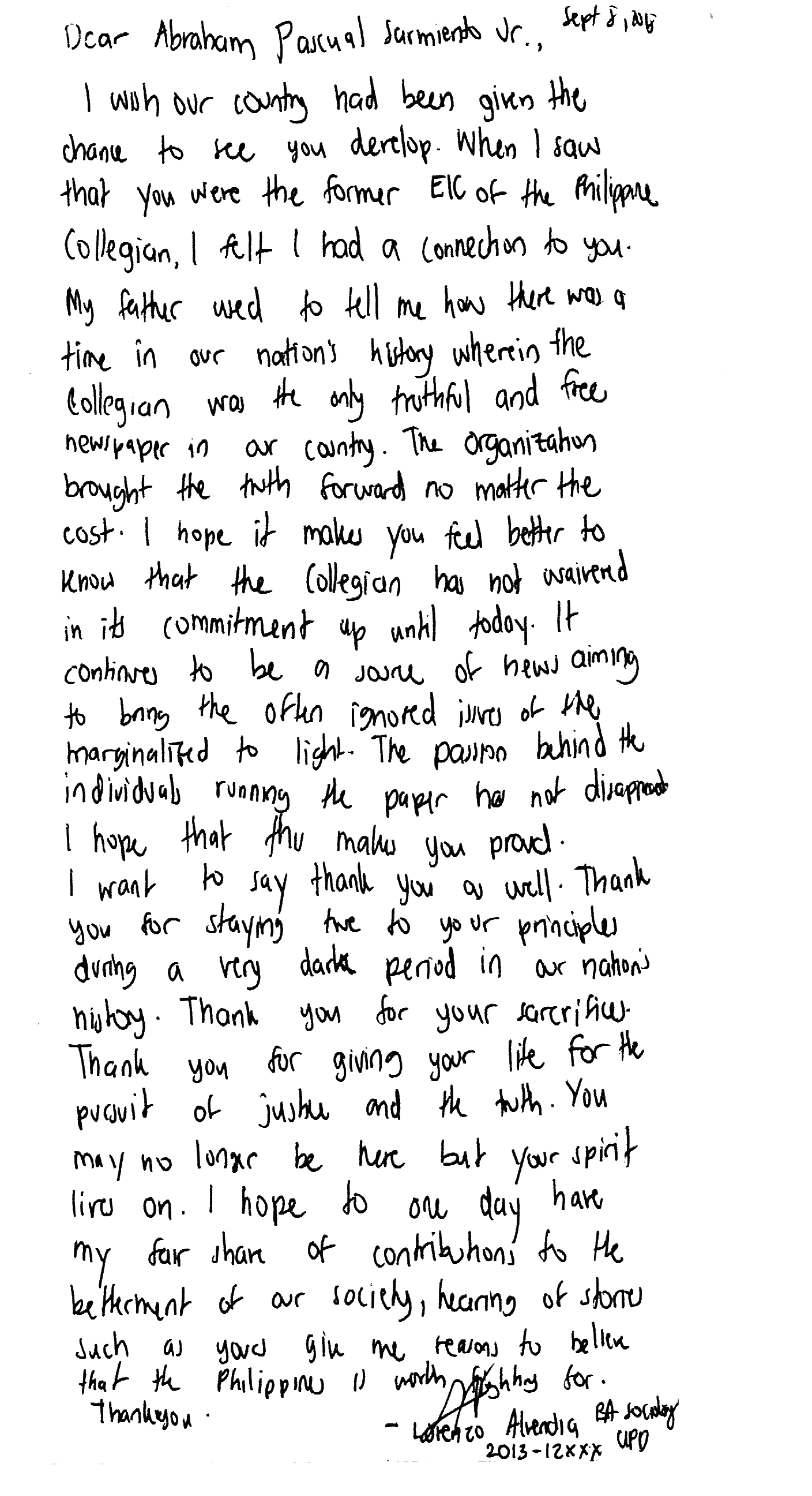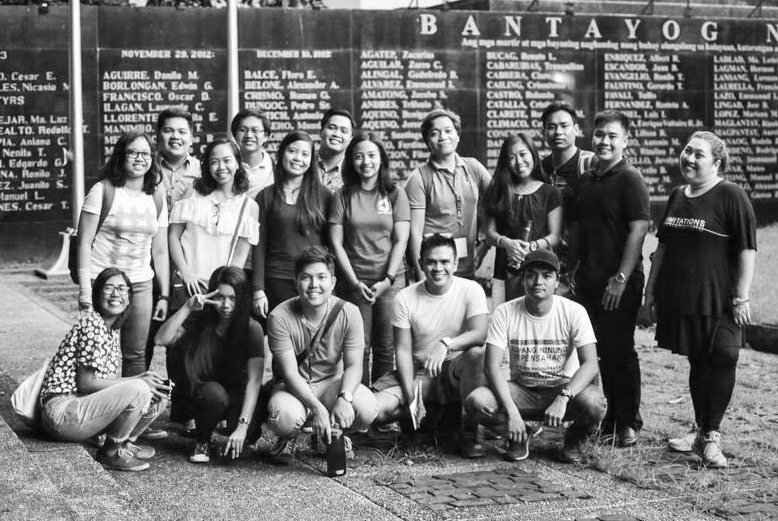 These letters were written by Heroes Hub fellows on the event of the Martial Law education learning series of the Heroes Hub Youth Fellowship Program, September 8 2018 held at the Bantayog ng mga Bayani, Quezon City. Acknowledgement to the participants, mentors, and facilitators. Christine Anne A. Alvarez, Lorenzo V. Alvendia, Raymund Christopher Armeña, Joshua Elijah L. Babasa, Domar H. Balmes, Valyn Mae L. Balquin, Mark Norman S. Boquiren, Sophia  Eos Louise Cudiamat , Johanne Joseph O. Del Rosario,  Kevin David Estigoy, Wynona Ghaile L. Galvez, Hannah Jean G. Jimala, Ian Red D. Ligot, Iñaqui Angelo Mangahas, Kristine Mari Miranda, Sophiya  Kirsten, D. Montano, Beatrice Francesca, A. Orante, Alma Angela L. Patricio, Janessa Renee C. Pinuela,  Leyden C. Sta. Isabel, Paul Anthony L. Tecson, Ma. Sonia Tomalabcad, Dexter Arvin E. Yang, Gerrie Anne S. Unto | Leni Velasco-Bicol, Danielle Louis Afuang, Khrisma Soliven, Andrei Venal, Natasha Kintanar, Aly Suico, Coco Oei, , Patrick Atendido, Charlon Kim Baylon, Kristine Kintana | Administration of Bantayog ng mga Bayani.